Our Products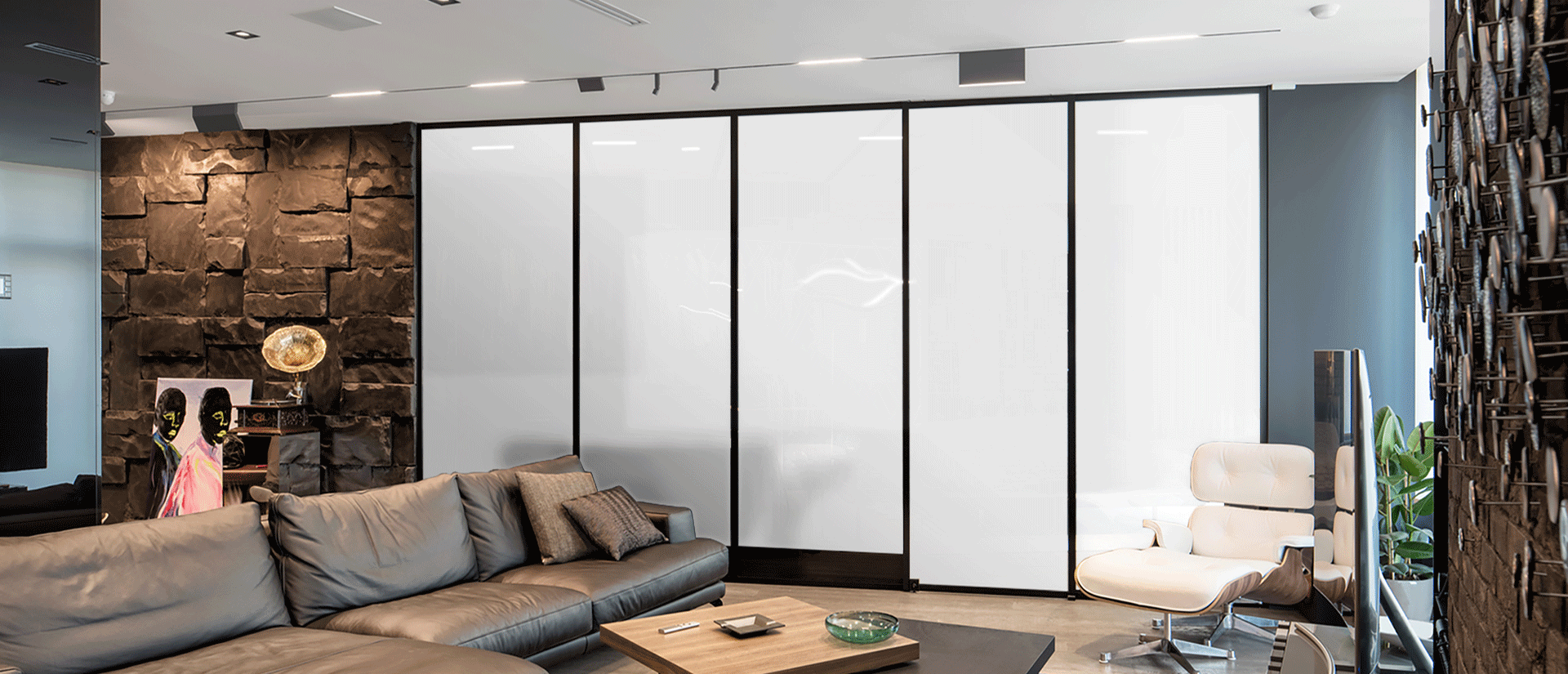 Smart Glass VIP supply three types of smart dimming film/glass, include non-adhesive smart PDLC film, self-adhesive smart PDLC film, and laminated switchable privacy glass.They can be manufactured to any shape, with holes drilled to specification or in larger sized panels. A variety of film color choice offered to enhance the product range and enable a smarter living with more open space while enjoy privacy.
With the latest smart privacy film technology ,they are widely used by world architectures on commercial buildings,residential homes,projection screens.
Non-Adhesive Smart Film for Laminated Glass
Non-Adhesive Smart Film is made of 2 layers of transparent conductive ITO films with polymer dispersed liquid crystal in between.it's also called PDLC film ,smart window film,or glass film. Our R&D team owned pantent formulation in ITO film&PDLC film, the leading supplier and manufacturer in China.
Smart PDLC film will become vaporous due to the disordered arrangement of liquid crystal molecules after turning off the power.
On the contrary, when the power is on, neatly organized molecules will make smart film present transparency.
Smart Film is widely used in the laminated smart glass. Our cooperated glass factory world-wide imported them monthly.
Self-adhesive PDLC Smart Film Switchable
With a EVA adhesive at rear side of the Non-Adhesive Smart Film, it can be easily peel and stick to the existing glass. A simple ON – OFF switches the film from being clear (transparent) to frosted (opaque).Widely used on glass windows in commercial office, home residence, hotel bathrooms,monitoring centers,etc. People can enjoy more open space as well as privacy with this smart privacy film.
We offered self-adhesive is a finished one with bus bar which can directly installed on glass,a remote installation or living teaching support is offered to our customers.
Switchable Privacy Glass Electric
Smart glass is a laminated glass with polymer dispersed liquid crystal(PDLC) film sandwiched between two layers of tempered glass. We provide complete smart glass finished with wiring.
it can be directly installed both commercial and residential in a variety of sizes, shapes. The smart glass switch on from clear to opaque when off(or dim anywhere in between)
Photochromic film is a kind of heat insulation window film which can intelligently adjust its visible transmittance with the change of sunlight intensity, soften the incident light intensity, reduce the glare, and has the characteristics of high heat insulation rate, transmission force and high UV resistance.
The main feature is that under the sunlight, the color will gradually darken, and at the same time, it rejections the heat of the sunlight, and ejections the ultraviolet and infrared rays outside, so that the indoor temperature will not be heated, and at the same time, it can achieve the energy-saving effect.

Smart Film Glass has various control methods, such as wall switch, remote control, APP control, Dimmer control and smart home system control.
Free Sample , Immediate Quote