Non-Adhesive Smart PDLC Film For Laminated Smart Glass
Non-adhesive smart PDLC film without self-adhesive layer, used to laminated smart glass(Glass+EVA+PDLC Film+EVA+Glass).
Custom Nonstandard Shapes and Dimensions

PDLC Smart Film Privacy Protection:A key against peeping,intelligent control.more convenient privacy protection.

Space Partition:Break the fixed space strong effect of extended space,privacy,open,do whatever you want.

Touch screen and projection:Family cinema,office projection,one glass gets all done.

PDLC Switchable Smart Film Safe protection:Against impact,it can effectively prevent the glass fragments to splash even if frag mentation.

Environmental protection and sound insulation:Not only effectively block 99%UV,but also can stop the noise pollution to creat a quiet world.
Description
Non-Adhesive Smart Film for Laminated Glass

Non-Adhesive Smart Film is made of 2 layers of transparent conductive ITO films with polymer dispersed liquid crystal in between.it's also called PDLC film ,smart window film,or glass film.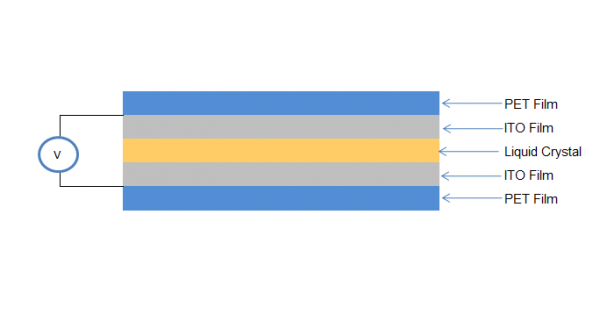 Non-Adhesive Smart Film usually to be laminated between 2 layers glass, in order to make switchable smart glass, it will need EVA film lamination furnace to do the lamination. Based on this property,the target customer of the non-adhesive smart film is the decorative glass manufacturer and trader.

Smart PDLC film will become vaporous due to the disordered arrangement of liquid crystal molecules after turning off the power.
On the contrary, when the power is on, neatly organized molecules will make smart film present transparency.
Smart Film is widely used in the laminated smart glass. Our cooperated glass factory world-wide imported them monthly.
Film size:
Width optional: 1.0M,1.2M,1.5M,1.8M
Roll Length optional: 30m,50m or longer one.
Thickness:0.4-0.5mm
Film Specifications: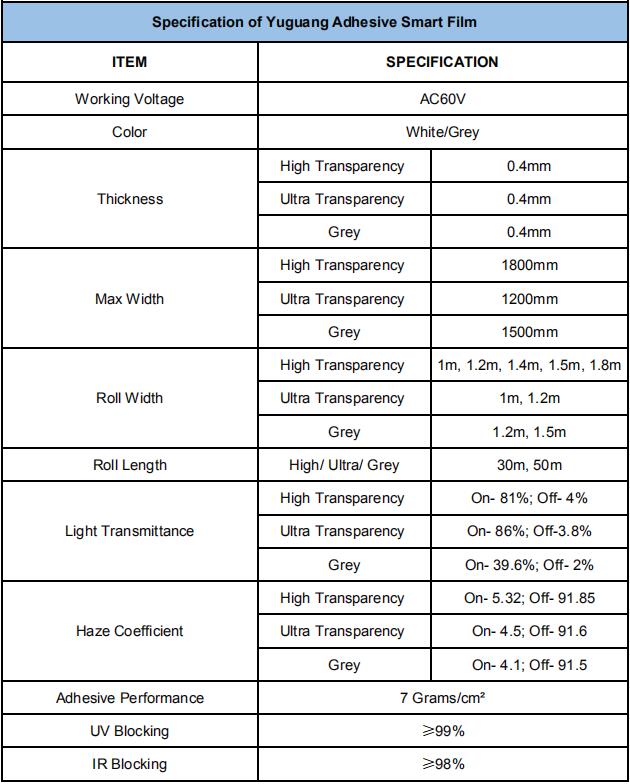 PDLC Film Packing in Roll