Welcome to Smart Glass VIP, the leading manufacturer of PDLC and PNLC films. In this article, we will introduce our latest product, PNLC film, which offers a unique functionality compared to PDLC films. Additionally, we will discuss our existing PDLC products: self-adhesive smart film, non-adhesive smart film, and smart glass, explaining their features and future prospects. As the primary producer of these innovative solutions, we are committed to providing the highest quality products to meet your needs.

Introducing PNLC Film: Unveiling a New Level of Transparency and Opacity
At Smart Glass VIP, we are excited to introduce our latest breakthrough in smart film technology: PNLC film. Unlike PDLC films, which operate in the opposite manner, PNLC films provide exceptional versatility in different scenarios. With PNLC film, you can enjoy both transparency and opacity at the flip of a switch.
The PNLC (Polymer Network Liquid Crystal) film consists of a polymer dispersed with liquid crystal droplets. When the film is in its transparent state, the liquid crystal droplets align, allowing light to pass through with minimal distortion. This transparency offers an unobstructed view, making it ideal for applications such as conference rooms, retail displays, and residential settings.
However, when an electrical current is applied to the PNLC film, the liquid crystal droplets disperse randomly, causing the film to become opaque. This opacity ensures privacy and enhances security, making it an excellent choice for meeting rooms, healthcare facilities, and high-security areas. The ability to switch between transparency and opacity provides unparalleled control over the level of privacy and natural lighting in any space.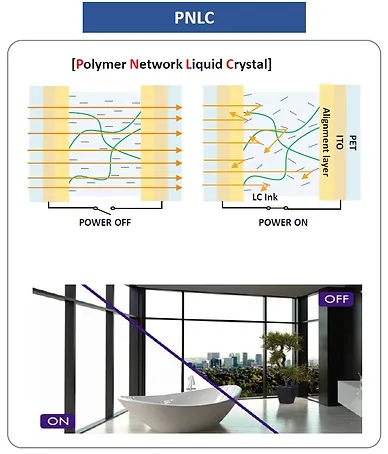 Exploring PDLC Films: Self-Adhesive Smart Film, Non-Adhesive Smart Film, and Smart Glass
PDLC (Polymer Dispersed Liquid Crystal) films have been widely acclaimed for their versatility and functionality. At Smart Glass VIP, we offer three different PDLC products to cater to diverse customer needs:
2.1 Self-Adhesive Smart Film: Our self-adhesive smart film is a retrofit solution that can be easily applied to existing glass surfaces. It features a self-adhesive backing that allows for straightforward installation, making it an ideal choice for retrofitting conference rooms, hotels, and residential windows. With a simple on/off switch, you can instantly transform the glass from transparent to opaque, providing privacy on demand.
2.2 Non-Adhesive Smart Film: Our non-adhesive smart film provides the same functionality as the self-adhesive version but without the adhesive backing. This feature makes it highly versatile, as it can be applied to a wide range of surfaces, including acrylic, polycarbonate, and glass. The non-adhesive smart film offers flexibility during installation and is easily removable, making it a suitable choice for temporary applications, such as pop-up stores and exhibitions.
2.3 Smart Glass: Smart Glass, also known as switchable glass or privacy glass, is a revolutionary product that combines the benefits of PDLC technology with the structural integrity of glass. Smart Glass panels consist of two glass layers with a PDLC film sandwiched between them. This construction enables the glass to switch between transparent and opaque states, just like PDLC films.
Smart Glass provides an elegant and modern solution for architectural projects, offering privacy, natural lighting control, and aesthetic appeal. It finds applications in office spaces, hotels, healthcare facilities, and residential buildings. With Smart Glass, you can create versatile environments that adapt to the changing needs of your space while maintaining a sleek and sophisticated appearance.
Smart Glass VIP: Your Trusted Source for Premium Smart Films
As the leading producer of PDLC and PNLC films, Smart Glass VIP takes pride in delivering high-quality products and exceptional customer service. Our state-of-the-art manufacturing facilities utilize advanced technology and rigorous quality control measures to ensure that our smart films meet the highest industry standards. Here's why you can trust Smart Glass VIP as your source for premium smart films:
3.1 Superior Quality: We are committed to delivering superior quality products that excel in performance and durability. Our PDLC and PNLC films undergo comprehensive testing processes to guarantee their functionality, reliability, and longevity. With Smart Glass VIP, you can be confident in the longevity and consistent performance of our smart films.
3.2 Customization Options: We understand that every project has unique requirements. That's why we offer a range of customization options for our smart films. Whether you need specific dimensions, shapes, or special features, our team of experts will work closely with you to tailor our products to your exact specifications. We strive to provide flexible solutions that align with your design vision and functional needs.
3.3 Technical Support: At Smart Glass VIP, we believe in providing comprehensive support to our customers. Our team of knowledgeable experts is available to assist you throughout the entire process, from product selection to installation and beyond. We offer technical guidance, project consultation, and troubleshooting assistance to ensure a seamless experience and successful implementation of our smart films.
3.4 Competitive Pricing: We understand the importance of cost-effectiveness in any project. Despite offering top-notch quality and cutting-edge technology, we strive to maintain competitive pricing for our smart films. By optimizing our manufacturing processes and maintaining efficient operations, we aim to provide affordable solutions without compromising on quality.
3.5 Timely Delivery: We value your time and understand the significance of meeting project deadlines. At Smart Glass VIP, we have implemented streamlined production and logistics processes to ensure timely delivery of our smart films. With our efficient supply chain management, you can rely on us to deliver your order promptly, allowing for smooth project execution.
Embrace the Future with Smart Glass VIP
As the pioneer in smart film technology, Smart Glass VIP is dedicated to continuous innovation and improvement. We are committed to staying at the forefront of the industry, exploring new possibilities, and introducing groundbreaking products that redefine the concept of smart glass.
By choosing Smart Glass VIP as your partner, you gain access to the latest advancements in PDLC and PNLC films. Our ongoing research and development efforts aim to enhance the functionality, energy efficiency, and versatility of our products. We are excited about the potential applications and advancements that lie ahead, and we invite you to join us on this journey of innovation.
In conclusion, at Smart Glass VIP, we take pride in being the leading manufacturer of PDLC and PNLC films. Our revolutionary PNLC film offers a unique switchable functionality, allowing for transparency and opacity in different situations. Additionally, our existing PDLC products, including self-adhesive smart film, non-adhesive smart film, and smart glass, cater to a wide range of applications and provide unparalleled control over privacy and natural lighting.
As the primary source of these innovative products, we ensure superior quality, customization options, technical support, competitive pricing, and timely delivery. Embrace the future of smart glass with Smart Glass VIP, and let us transform your spaces into dynamic, efficient, and visually striking environments. Contact us today to discover the endless possibilities of smart film technology.