The essence of PDLC technology is the formation of a special liquid crystal structure (layer) between two layers of an electrically conductive polymer coating. When turned off, the glass becomes milky frosted. In this state, SMART  PDLC glass is optically impermeable, which makes it possible to use it as a projection screen of direct and reverse projection, various kinds of partitions. And when voltage is applied, the liquid crystal particles take a position perpendicular to the plane of the electrically conductive layer and the smart glass becomes optically transparent.
Surely all of you imagine how a regular calculator works. So, the principle of operation of the Smart Glass technology is similar to the operation of the screen of a calculator – when a portion of glass is applied to a shaded film, the crystals change their position, and therefore the glass instantly changes its transparency.

5 reasons to use switchable glass ?
Explosion Proof:When our glass is broken by external forces, it will stay on the original frame so that the people nearby will not be injured.
Elevate Space: No need blinds,shapes,curtains and drapes,which requires washing regularly. Enjoy more open spaces as well as privacy. just with a flick of button, glass dims from transparent to opaque.
Save Cost:Though the curtains block out most of the light but the light still comes affecting temperature. Switch smart glass will save cost on air conditioning charge for its insulation and blocks of 99% UV light,reducing the temperature inside house and enjoy cooling.
Projection screen: it's multi functional, use rear projection screen as home theater,or shopping window advertising,office and school projection when it's opaque.
Make it Simple:Streamline the cleaning and maintenance associated with traditional windows and window coverings. With a mobile app to control clear and opaque.
Long life time: it can be used at least 15 years, it deserves invest for its modern convenience.
PDLC (Polymer Dispersed Liquid Crystal)  film is the abbreviation of Polymer Dispersed Liquid Crystals film which is basically three-dimensional structures composed by liquid crystal microdrops dispersed in a polymer matrix. Polymer-dispersed liquid crystal (PDLC) films are useful in light control applications because they can be switched electrically between light scattering and transparent states.
The Structure of of PDLC film?
Flexible PET film with conductive material coated by high –tech manufacturing facility name "smart web" named ITO film, the percentage of conductive material and PET film quality is key factor make PDLC film of good quality outstanding with high transmittance, resistance to high voltage shocks. The liquid crystal is sandwiched between the 2 ITO film by lamination machine, this is how the PDLC film is made.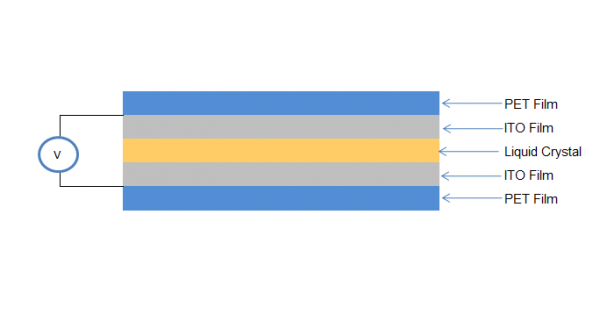 With current switch, the PDLC film is vaporous due to the disordered arrangement of liquid crystal molecules after turning off the power. On the contrary, when the power has opened, neatly organized molecules will make smart film present transparency.

PDLC film various color:blue,pink,green,black,coffe,milk white for option.
Till now, Smart Glass VIP have invested over 1 billion RMB on its R&D laboratory, manufacturing facilities ,business marketing to match the rapid growth and surge demand world-wide with its diversified markets applications comprising building construction, automotive, hospitality, healthcare, entertainment, subway and more. Following is the high-tech facility we invested in our dust-free workshop.
What are other names for smart glass?
Switchable glass, switchable film, PDLC film, privacy glass, dimmable glass,dimming glass, electronically controlled glass, LCG® (light control glass), Liquid Crystal Glass, switchable windows.
What is Smart Glass?
Smart glass is the general name for glass or other transparent materials, that change opacity from transparent to translucent or opaque to block different types of light.
Why is SMART glass useful  and where to use it?
A unique technological product, even in today's progressive time – Smart Glass or glass of variable transparency gives a number of advantages in use:
It allows to reduce heat loss in rooms for various purposes due to the excellent heat-saving properties;
It will help reduce the costs of air conditioning and lighting;
It is an excellent alternative to blinds, shading screens, curtains – any mechanical light-protecting structures;
Possible protection against ultraviolet radiation.
Application of SMART technology in various industries 
Spheres, directions and ways of using Smart Glass are so wide and diverse that it allows us to say about the almost universal use of SMART glass in various industries, such as:
Interior architectural solutions in the zoning of spaces of business and residential premises: the manufacture of any safe translucent structures – rooms, office partitions, windows, doors, arches, conference rooms, meeting rooms, organization of confidential spaces, improvement of houses and offices;
As curtains and blinds;
Interior solutions of the restaurant business ;
As demo displays for presentations, "Smart Glasses" are multifunctional projects / screens with high parameters of color rendering quality, clarity of the transmitted image;
The use of " SMART  Glass" for the purpose of complex marketing decisions – the development of various designs of shop windows, the placement of facade outdoor advertising;
The use of "Smart glass" for tinting car windows, especially smart technology is actively used in the factory manufacturing of premium cars;
Organization of bathrooms, home decoration,
The SMART Glass technology allows you to control the amount of light and heat passing through the windows;
Due to the fact that Smart Glasses are not afraid of humidity, they have proven themselves in use in swimming pools, showers, fitness centers, greenhouses and conservatories;
Protection by smart glasses of art objects in art galleries from the harmful effects of ultraviolet rays and light waves of the visible range; In the aviation industry, where electrochromic smart glasses replace the shutters of windows;
Outdoor and indoor advertising installations, display windows with possible transformation into multimedia screens;
In medical institutions: organization of intensive care rooms, patient examination rooms;
Spatial decisions of cash zones of banks;
Recreation areas and fitting rooms in stores.
Can you project on PDLC?
Yes! PDLC creates the best projection surface with HD quality visuals and 180° viewing angles, turning switchable glass into a liquid crystal display. The best part? It can turn transparent for full use of windows or glass partitions instantly.
What is the difference between Non-Adhesive and Self-Adhesive PDLC Smart Film?
Non-adhesive PDLC film is the original material for laminated smart switchable glass.
Self-adhesive pdlc film has a peel and stick backing for easy installation, it's widely used in commercial and residential field like shopping windows, projection screens, electronic blinds, monitoring center or hotels.
What frame types does LC Smart Glass require?
LC Smart Glass is compatible with most types of internal partition systems including sliding panels, IGU partitions and windows, and U or T profiles from most materials.
How long does it take PDLC smart glass to switch?
Pretty fast – less than 0.1 second to be exact!
Are there different types of PDLC smart films?
Depending on the different manufacturers, PDLC can be made in grey, various colors, with patterns or with temperature control formulations that increase green points in buildings.
How do you clean switchable glass?
Just like any normal glass — with a soft cloth and window cleaner.
Is PDLC smart film suitable for indoor or outdoor use?
PDLC glass is typically used for indoor applications, but some companies have outdoor grade technologies. To learn more about outdoor grade PDLC film, contact us.
Can switchable smart glass replace blinds and shades?
PDLC can replace blinds or shades used to create privacy in interiors. PDLC Smart Glass with IR reflection capabilities can also help control temperature. SPD is used to block up to 99% of light, creating shade, making it ideal for exterior windows.
How much power does switchable smart glass consume?
LC smart glass consumes 5-7 watts per sqm. For perspective: 10sqm of PDLC switchable glass consumes less energy than one LED bulb
What does smart glass cost?
Smart glass costs depend on what type of glass is being used, location, quantity, and other factors. To get a quote for a smart glass project, contact us.
How do you control PDLC?
Electricity is applied to turn PDLC film on and off. With special controllers, films can also be synced with:
Off-the-shelf switches like Lutron or touch panels
Smart home or office systems
Alexa or other voice activation platforms
Sensors
Radio remote controllers
Mobile App
How do I specify PDLC Smart Glass into a project?
You will need a  specification sheet. You can contact us for more detail.
Still have questions about PDLC Smart Glass, or need a quote for a project? Smart Glass VIP is a world leading developer and manufacturer of this technology.
We are happy to help you with your next project anywhere worldwide. Contact us today!