The Top Five Benefits of Smart Glass Products
As technology prevails, the demand for smart glass products has increased drastically. More and more people are becoming inclined towards the idea of incorporating switchable smart glass into their offices, homes, and other places.
Modern smart glasses cater to a number of applications. They are bound to leave you impressed. After all, using smart glasses have become easier over time. They have evolved into something that is bound to leave you in awe.
In addition to offering superior privacy solutions, these glasses offer a number of other benefits as well. In this article, we will be focusing on the top 5 benefits of smart glasses. So, without any further delay, let us get started!
The Top Five Benefits
Ease of Use
There is no denying that the product is a technological marvel. Despite being an excellent creation, it is extremely simple both in terms of function and operation. Even though it offers a theatrical event of a closing, however, all you have to do is press the on or off option.
The good news is that smart glass activates as per the user's activation choice. For instance, the user can use an on/off switch, or he can have a flick of a switch. To take things to a whole new level, the user can activate smart glass using voice commands via a virtual home assistant.
This ensures complete privacy at the user's command. With one voice command, the glass would turn forest.
Maintenance
The product is not only easy to use, but it is also extremely easy to maintain. Use IPA clean of the affected areas. You will not have to put in additional effort, a simple swipe with IPA wipes would do the trick.
Since it is easy to use and maintain, therefore, it is the ideal privacy solution for a number of applications. Once you install the smart glass products, you will no longer need the dust blinds as your privacy solution for your office or homes.
You can even use them at the schools, hospitals or any other place where you would want hassle-free privacy.
Style
A great thing about these amazing glasses is that they will enhance your aesthetic interior or exterior. It is simply impossible to match this technology when it comes to style. Regardless of where you install smart glass, it is bound to look outstanding.
It will blend seamlessly with the entire décor and enhance the overall look. Once you install the smart glass on a particular surface, you want to enjoy crystal clear clarity by simply turning the switch on.
On the other hand, turning off the switch would ensure privacy. The glass would give revert to a frosted state. Now, no one would be able to peek into your house or private place. In short, you can enjoy the sun and the sky through your window during the day, while keeping the switch off.
However, at night turn it off to enjoy unmatched privacy. Even the frosted part of the glass would completely blend with its surroundings.
There is more!
The style does not end with the glass appearance. On the contrary, its functionalities further improve the style factor. After all, the privacy control solution has much more to offer than just an optical style choice.
Its ability to change from frosted state to a crystal clear one within seconds is an excellent styling factor. You definitely can impress your house guest with a sudden change in window styles. The instant changing factor looks great in both traditional as well as the hi-tech environment.
 Light Transmittance
Yes, the smart glass wall is a privacy solution, but it does not mean that you have endured complete darkness. The objective is to have privacy, not a total blackout. However, in most cases, a privacy solution does equal to a semi, if not a total blackout.
You can go with blinds as they offer privacy along with some light. However, the privacy factor is limited. People can actually see through the blinds that are partially titled.
Fortunately, that is not the case with smart glasses. It offers an excellent way to overcome this particular problem. The film offers complete privacy without blocking out all the sunlight. Some amount of sunlight would penetrate through the glass, thus allowing visibility.
The amount of visibility greatly depends upon where you have installed the film in relation to the sunlight.
Versatility
Versatility is among the key benefits of smart glass products. If you think smart glass does not have a solution exclusively for you, you need to think again. There are many options available in smart glass technology that there is a solution for everyone.
The wide range of products makes it possible for the consumer to choose one that suits his needs to perfection. For example, an interactive smart glass projection screen is one of its many products. This technology transforms a simple privacy screen into a multi-functional projection screen.
So, you are not only enjoying complete privacy, but you are able to entertain and engage your audience in the best possible way.
Privacy
Of course, privacy is the most important aspect of this technology. It wouldn't be wrong if we stay that privacy is the very heart of smart glass products. Therefore, it is among its greatest benefits. The smart glass offers complete and undisturbed privacy.
The use of this amazing technology is growing every day. We now incorporate it into places that we never expected before. Although technology might seem exciting and different. However, its functionality adds to its appeal.
The idea of having complete and easily accessible privacy makes it the best choice for people around the globe. With just one switch or a voice command, you can exclude the onlookers from your home, office, school, or room.
Adjustable levels of Privacy
Adjusting the level of privacy was something people were unable to enjoy in the past. Previously, they would have to apply an opaque tint to the desired place for the sake of privacy. The opaqueness did offer privacy; however, it was not possible to adjust the opacity level.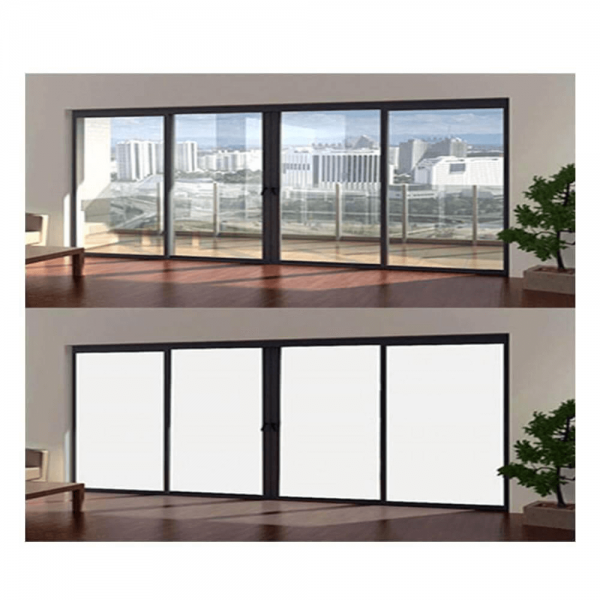 Clearly, this is not the case with smart films. With smart glasses, you can even adjust the level of your privacy. Yes, you heard us right. The amazing technology lets you decide the amount of opaqueness you want. You can either dim your windows or turn them completely opaque.
Why do you need Smart Glass?
Since people now prefer houses with big windows, the need for privacy is always an issue. Instead of relying on traditional methods such as curtain or blinds, you can now engage in more sophisticated means.
Get smart glass products installed and relish unlimited and complete privacy. You will be able to enjoy the sunlight during the day and undaunting privacy at night. In addition, you can adjust the level of opaque. Something that is not a possibility with any of the traditional methods.
Moreover, technology has a class and style. It will transform your home into something amazing. Also, it blends well with its environment. So, now you have privacy within your command. Simply order and the widow will shut out all the onlookers.
Interested?
SmartGlass Cn offers a number of switchable smart glass solutions. Some of these options include smart glass windows, laminated panels, a smart glass wall, toughened glass, and self-adhesive switchable film.
They offer the best quality at the most affordable prices. In case, you want further information regarding price or product options you should get in touch with their expertise.
They have years of experience in finding the smart glass solution for your problem. You can have an in-depth discussion with the learned staff before finalizing on a certain product. They will assess your situation in the best possible way and offer effective and efficient solutions.
They will answer all your queries as soon as possible. See the contact information below
Email: [email protected]
Phone: +86 135 2889 5042