Why is the Glass Projection Screen Film Important?
Are you looking for effective solutions to transform your glass window into an HD projection screen? If the answer is yes, then you have come to the right place.  We are going to tell you how to use the glass projection screen film to transform your window into projection screens.
There can be multiple reasons for transforming the glass window into a projection screen. It helps save safe, you are able to enjoy the video or presentation on a bigger screen among others. Regardless of the reason, glass projection screens are an effective solution.
In the course of this article, we are going to talk about transforming your glass into an HD projection. So, without any further delay let us get started!
Introduction to Glass Projection Screen Film
Before you get onto the "How", let us focus on the "What". It is important to have a basic understanding of the concept before you step down to the implementation phase. Doing so would help you make the right decision.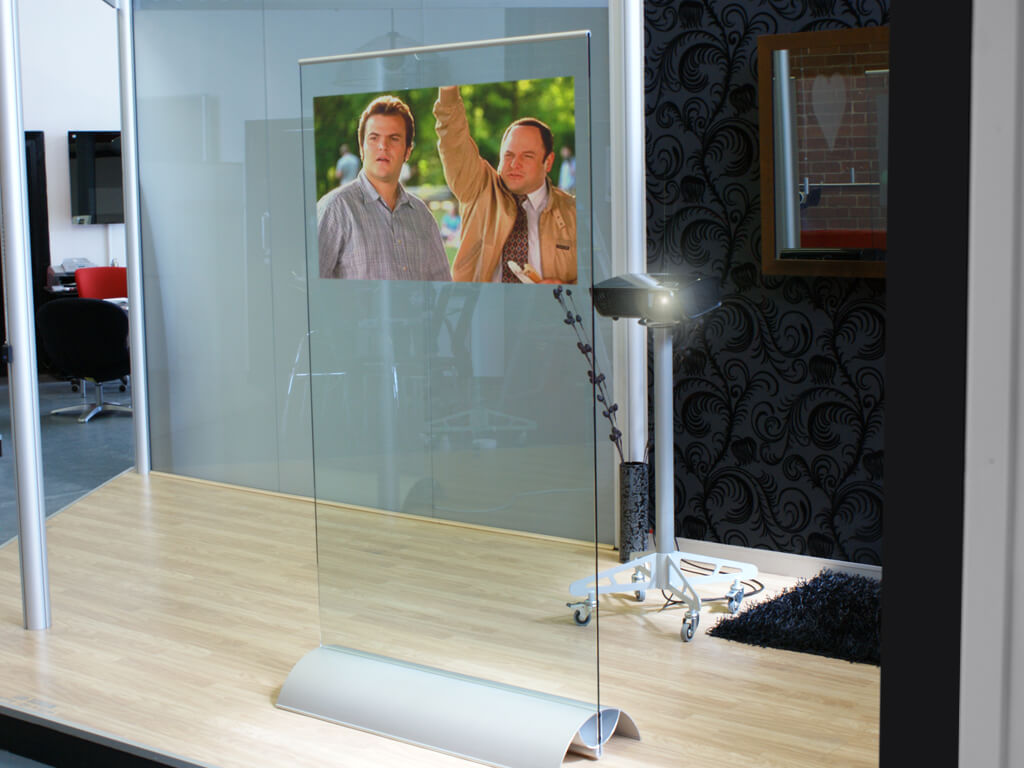 What is a Glass Projection Screen Film?
The glass projection film would take any piece of acrylic or clear glass and it would turn that into a projection screen. It would be like the TV surface that comes with an inbuilt adhesive for simple, yet efficient installation.
Sometimes the screen film comes in dark colors. After all, it tends to add contrast to your images and at the same time, it helps yield great results even in high ambient light conditions. There are numerous usages and advantages to screen films.
They are not becoming the new norm across industries. More and more people are recognizing their worth, thus making an investment in them. After all, they are not only allowing you to appreciate HD images but at the same time, letting your use your entire glass window in an effective manner.
You no longer need to have an additional place for projection. On the contrary, any clear glass window would do the trick. What more is that it is possible to apply them to almost anywhere. You can paste them onto sliding doors, storefronts, or glass partitions for offices.
Versatility is the key element
One of the major reasons these screen walls have become a huge success is that they offer privacy. You must be wondering how is that possible? How can a window offer projection feature offer privacy? The answer is simple, these screens come with this particular feature.
So, once you have the screen on, simply switch to the privacy screen instead of the projection one and you are good to go. Interesting right?
Stocks the Industry's Largest Size
The usefulness and the effectiveness of the projection screen film make them the leading firms in their industry. Statistics show that they hold the major stocks of the market. It means that people around the world are using them.
To enhance their feasibility factor, manufacturers have made the shipping easier. For instance, you can actually buy cut sizes of the film instead of the entire roll. So, does this mean, you will not get an entire roll? Of course, you will get one.
The cut sizes just make it convenient to ship. In addition, sometimes the consumers do not require the entire roll. If this is the case, they will never pay for the entire roll. They would buy only what they need. So, with cut sizes, they have the freedom to buy.
They can buy as much of the screen film as they want.
Use it Creatively
Interestingly, you don't need any specific projection angel. As long as it is a clear glass, you are can enjoy HD projection. Thus, the films offer more in terms of functionality, creativity, and installation. It will turn out to be your finest Pro displays.
What more is that you really don't need any specific viewing angle. So, it means that you are able to enjoy your HD screen from anywhere and anytime. You are able to display your content is a stunning fashion. You will have full control over the content that you display using these screens.
Installing these screens are also extremely easy. All you need is a spray bottle, cloth, and a clear glass window. So, make sure you have all these things and you are good to go.
The versatility of the glass projection screen film is proven when you use it as a partition or a portable projection screen. It is perfect for private residences, offices, health care units, and retail. You will be able to enjoy a range of benefits.
Exploring these benefits would provide you a better idea of how effective and efficient the films are. The films are providing innovative solutions for the automobile industry. In addition, it tends to add a contemporary architectural touch to your overall space.
Advantages of Glass Projection Screen Films
Here are the top advantages of these screen films.
On-Go Projection
When you incorporate the film in the transport industry, you will be impressed by its effectiveness. Also, you can use it in the industry in numerous ways such as pasting it on private vehicles or incorporating it on public ones.
Where you apply majorly depends upon your requirement. For instance, you advertise your products via these screens. Or it is possible to sun shade all your windows. They work well with the panoramic sunroofs as well as the IR blocking capabilities.
When you advertise anything, it gets to get discretion while blocking the sun's glares. The result is that you keep the windows transparent for a clear view. You would also see them while traveling via airplanes.
They are commonly used for airport entertainment or the in-flight ones. You can effortlessly share your message with all the people traveling via a flick of a switch. All this is possible because of the glass projection screen films.
Office Glass Partition
Gone are the days when you would need a pull-down projection screen or a separate conference room/ The modern era is more sophisticated and space-saving. Simply paste these films onto your glass partition and you can enjoy HD images as well as the privacy of a conference.
So, enjoy a room that offers a view. However, the moment you need it for projection, flick the switch and have a completely opaque film. Thus, no one would be able to see inside your room. Turn your office glass partition into an effective and high-quality projector screen.
Home Theater
The usage of glass projection screen film is not limited to offices or commercial industries. On the contrary, you can use it for your in-house entertainment. Apply these films onto your living room's glass window and spring it to life.
These modern screens have the ability to replace your TV screens. They would be offering picture quality as well as the TV screen. After all, they are like HD projectors. These screens also work with the den windows. Turn these useless windows into HD projections screens.
An effective way to Advertise for Retailers
We understand that maintaining your retail shop's window can be a troublesome task. However, things have become easier now. Simply, apply these screen films onto the windows and forget about cleaning them.
On the contrary, you will be able to transform them into something more than you can imagine. You once, difficult to maintain windows would now become an effective way to advertise your project. Since they offer crisp and clear screen projection, thus use them to highlight your products and services.
You can talk about your latest deals, flash sales, or seasonal sales.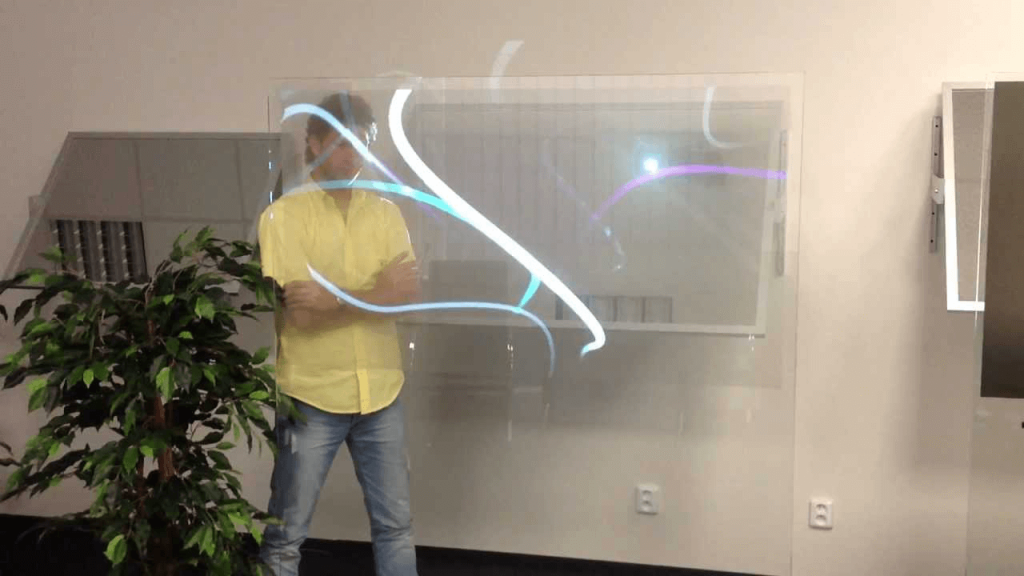 Take Away
The Glass Projection screen films are the trends of tomorrow. They are revolutionizing the projection world. Instead of paying extra for projection, a projector room. You can now use your regular office partition and convert them into HD projection screens.
Apply these amazing films on them and yield effective results.