How Much Does Smart Glass Cost?
Technology in glass has always been breading ground for many industries, homes, and commercial buildings. Glass has been an asset in providing privacy, bullet resistance, blast protection glass, fire resistance, and of course offering varying levels of tints and much more. The benefits are endless, therefore, it is important to know how much does smart glass cost.
Light and heat are two areas where glass has not fully satisfied us, it allows too much light to enter and heating up our places. Today our options have been blinds, curtains, or shades that sound so old and uneasy to maintain, and for those that seek some form of sun protection, controlling the amount of light to enter and privacy options within their glass, the glass industry has finally found the solution that is smart glass.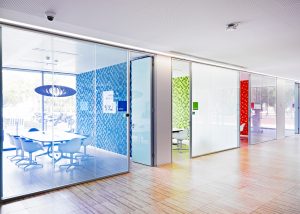 It's impressive in saving you loads of electricity bills making your environment cool, provide you utmost privacy, and improve your security.
Now that the smart glass has entered our world, with numerous advantages and it fits your place. Right now what the deciding factor steps down always to, is the cost of the product.
HOW MUCH DOES THE SMART GLASS COST: A DECIDING FACTOR
Cost is a deciding factor with many standard installations, but many high-end homes and new build constructions have already been fitted with Smart Glass.
Commercially it already makes a lot of sense in glass-fronted buildings where it is used for the energy-saving benefits it brings with itself. In residential properties, we may see more people move to Smart Glass to bring an exotic change in their house interior.
The smart glass industry is evolving and many people are not aware of it. So naturally, the manufacturers are demanding higher prices of smart glass than ordinary glass.
Smart glass can cost a lot if you're planning to convert maximum ordinary glass into a smart glass. The cost depends also on the size of glass you need, which type of smart glass you're using, which company you're ordering from because each manufacturer has its own price that they offer you.
General Price Estimate
Providing a general price estimate without taking certain considerations into account is not possible. Factors that influence pricing considerations include: which technology, what type of glass, thickness, and if there is additional processing or coating. Depending on who you purchase from, a direct manufacturer or reseller, quantity, and territory, prices will vary.
According to the home improvement website, Modernize, smart glass costs about 50% more than regular windows. However, Modernize notes that it has the potential to save a building owner 20% of energy costs.
But if you still want to save some of your salaries and get your hands on the smart glass technology then,
As to just estimate the cost of smart glass, it would 10,000$ for a typical customized interior. A single square foot costs around 50-100$.
The cost of standard smart glass ranges from $85-130 United States Dollars (USD) per square foot. For orders under 40 square feet, you can expect to pay $130 USD per square foot. As the quantity increases, the price decreases because if you deal in bulk you would get it at negotiable prices.
There are some manufactures that are offering smart glass with excellent qualities
LTI SMART GLASS
SMART GLASS VIP
INTELLIGENT GLASS
SMART GLASS INTERNATIONAL
These are some top google-searched smart glass manufacturers
HOW MUCH DOES THE SMART GLASS COST: IS IT WORTH THE COST?
Smart glass is created by special technology that allows you to change the degree of transparency. It consists of two or more sheets of glass enclosing a liquid crystal film traversed by an electric current. Under the impulse of this current, the crystals are aligned and the transparency of the glazing is modified.
Smart glass is appropriate in different situations, but for one purpose – to make the visible part of the room invisible. Meeting rooms, restrooms, managerial offices, shop windows, sliding doors, room dividers, windows, offices, and even tables in the restaurant can be decorated with smart glass
Let us start with the pros
Smart glass blocks the sun:
Smart Glass has a great advantage because it lets as much light as clear float glass. However, float glass let 55% of UV-rays through while the new technology used in Smart Glass blocks over 95% of UV-rays. This gives you natural sunlight and you don't need air-conditioning systems.
Smart glass reduces heat:
Windows are most often the ones responsible for heat loss during the cold months while during the summer days they cause problems with heat gain. With the use of Smart Glass, you will reduce heat load in summer and heat loss during the winter while maintaining the vision true the window.
Smart glass significantly saves energy:
With smart glass, there is no need for air conditioning in summer while consuming little electricity since the electrochromic glazing remains tinted even after the power is cut. According to the manufacturers, switchable glass, would allow energy savings of up to 30%.
Preservation of privacy:
Like opaque glazing, it preserves your privacy by protecting you from looks from the outside, without interrupting the view, unlike blinds for example. With these smart windows, you have the ability to completely get rid of the curtains in the room.
Smart glass as projection screen:
You can also use the smart glass as the projection screen. This expands the possibilities for creating an exclusive, individual design of the room. Perfectly suited for use in conjunction with video projectors designed to watch movies on a separate screen.
The cons:
High price:
The biggest drawback of smart glass remains its price, which is very high despite the energy savings it generates. If the range can vary from one manufacturer to another, count around $100 per m² for this glazing marketed by specialized companies. For this reason, electrochromic glass is still not very widespread: currently, only professional and public premises such as offices and museums use it.
It's Necessary Use of Electricity
Although smart glass saves over 30% of home energy, it also uses electricity from the grid, so this can also be called a disadvantage. If electricity is not available in the house, smart glass cannot be used.
Installation can be difficult:
In order to install smart glass, it is necessary to know what you are doing; both window installation and electrical installations. Therefore, before installing, you will need to hire a master who is qualified for the job.
Smart glass is not very widespread:
Although this technology greatly reduces energy costs, it is not yet widespread, and you don't have it in every city. Therefore, if you would decide to install smart glass in your home, you will need to find the nearest shop where you can order it, and that might be a little harder. And also, with fewer customers, the price would be high as well
Now it's in your hands whether you go with it or not.
HOW MUCH DOES THE SMART GLASS COST: WHY ARE SMART GLASS ON THE EXPENSIVE SIDE
The smart glass was used for the first time in the 1980s, but the technology was displayed after 2000. The smart glass industry has undergone many changes and advancements in terms of technologies and applications.
The cost of smart glass is 2 to 4 times higher than that of conventional windows and glass due to technological advancements.
While the smart glass technology was introduced to the market almost a decade back, it is only in the last couple of years that manufacturers were able the fund and support the necessary launch of smart glass in large volume production.
HOW MUCH DOES THE SMART GLASS COST: FUTURE PRICING
With the opening of large volume manufacturing facilities, manufacturers are expected to achieve economies of large scale, which, in turn, will lower the cost. With the increasing volume of production, the cost of smart glass is estimated to reduce by 30%–40%.