Introduction:
Now we do not need those old dusty curtains or blinds on our windows, well the glass industry has something even better that is "LTI Smart Glass"
"Smart glass is an interestingly new product to build a smart place for smart minds''
Smart glass works by letting you control the brightness and dimness of your window panes based on your choice with just one click of the button. This means you have got a chance to save money on cooling and heating expenses during certain seasons. smart glass has a standard functionality, there is a wide selection of products that vary based on the technology. For instance, the smart glass works similar to a pair of sunglasses. You don't need to flip a switch to operate it, as the windows will instantly adjust once it detects sunlight. On the other hand, thermotropic panes automatically dim windows when it reaches a specific temperature. Each type will always have its advantages and drawbacks.
The best time to consider installing smart glass is during a building's construction; however, retrofitting an existing building is perfect for doing up and creating a perfect family space.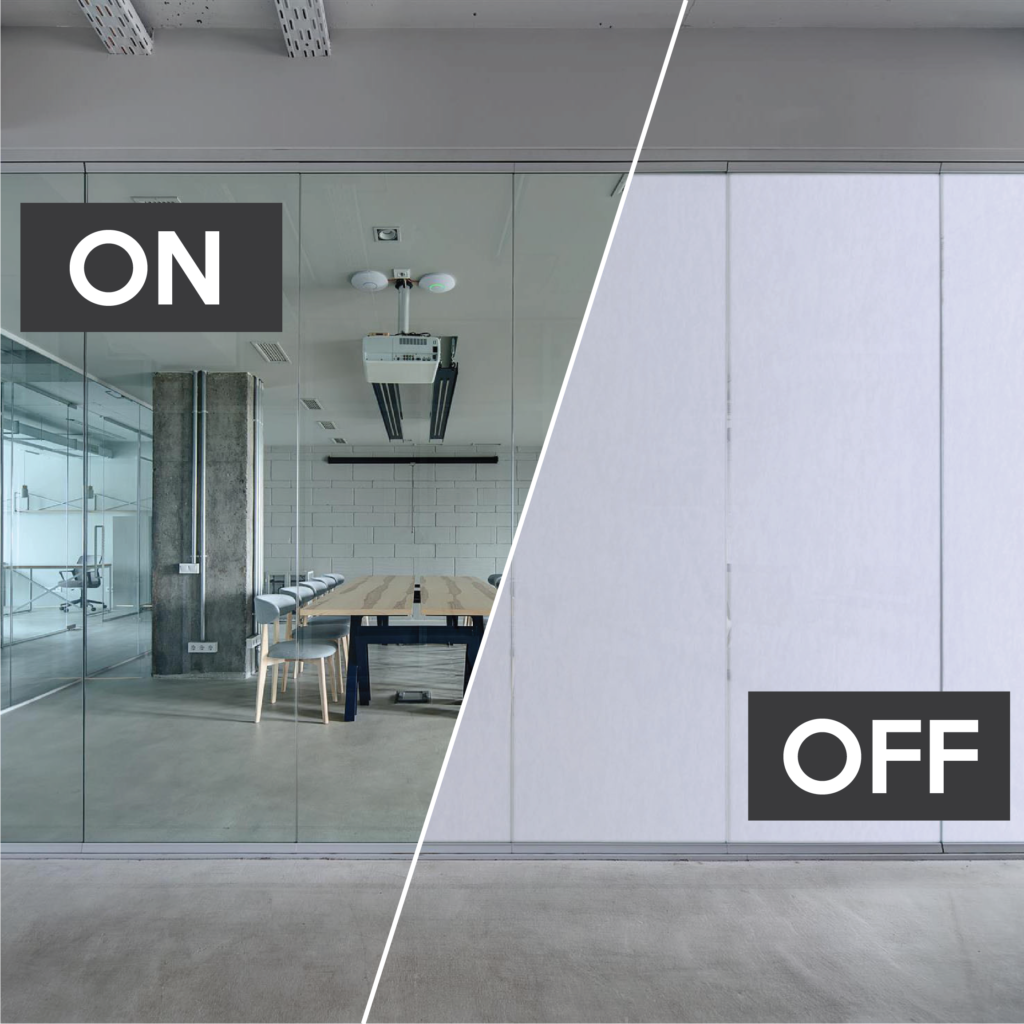 Smart glass in business environments is an obvious one, given that many modern office blocks are constructed nearly entirely of glass. With thousands of people working smart glass can conveniently provide you an agile atmosphere to work and more than that it could save companies big bucks in long term.
Smart Glass Importance
Smart glass inherently easy to clean more hygienic than the traditional that means it can be used in the hospital to create a one-unit isolation room, post-operation rooms, and much more. It great in such delicate environments to stop the outspread of the disease yet providing a comfortable space for patients. smart glass offers great suitable health care requirements such as in your X-rays rooms.
Marine aviation and the automobile industry have started incorporating it for their cabin partition, windows, doors.
Hotels have also used this technology that would offer great privacy screen between the bedroom and bathrooms, external doors and on toilets as well and create a luxurious interior.
I hope the above reasons are hand-full to impress and convince you to get your hands on this technology.
But which manufacture to choose?
LTI SMART GLASS VS VIP SMART GLASS
LTI Smart Glass:
It is a leading member of the AIT group. The LTI smart glass is the leading provider of laminated glass and polymer. They are working in parallel with the architects, designers, business owners, homeowners, artists, and innovators and not to forget with governments as well to provide you perfect quality with quantity.
Just to add in LTI smart glass have more than 130,000 square feet of per production capacity which is huge. LTI smart glass are original and leading constructor of smart glass. They have put forward the best version of the smart glass in the market.
LTI smart glass offers you smart glass that is electrified instantly switchable privacy glass. It is a complete bundle of privacy, security and growth.
 SMART GLASS BY LTI SMART GLASS:
Their smart switchable privacy glass adheres to the international standards. When the smart glass is switched on the glass becomes opaque whereas when switched on the glass becomes clear. Smart glass is delivered with wires that lead to the glass for easy power supply.
Their Smart Glass technology can be used as stand-alone glazing to retrofit into existing windows, doors, or glass frames. It can also be combined with other laminates such as Decorative or Security Glazing to add privacy functions to traditional walls, windows, and doors.
SMART GLASS VIP
Smart glass VIP is a professional and progressive manufacturers of the smart glass technology that have set their foot in the field of light controlling technology. It has current annual output of the smart glass 500,000 per square meter within two years of growth rate of 60%. From the preparation of raw material, control of production process, to the inspection of finish product, the company is resposible for everything. As far as the smart glass is concerned they have maintained a high standard of their glass. Product quality is higher than the industry standard is what they claim!
SMART GLASS BY SMART GLASS VIP:
Smart Glass VIP  claims to produce smart glass that is smart and connected. Their smart glass is the world's fastest variable dynamic glazing technology. Moreover, this technology lets you control the intensity of light they want in their rooms. Their smart glass technology is available in both glass and light weight polycarbonate substrate. They provide the utmost combination of sustainability and safety through their products. The smart glass manufactured by smart glass VIP is customized in all sizes, automatically or manually controlled by your mobile phones and now they provide you smart glass that are easily operated by your voice as well that's sounds interesting. After all the technology allows to control various forms of light.
Thus, this technology makes available of a dynamic space that can be both private and open at the same time.
Which one to choose?
Reviewing both the smart glass manufacture. Here to suggest you why you'd want to choose SMART GLASS VIP. Let us keep it straight you're investing in a product that is expensive anyway it's a big investment so you want hand-over your interior to reliable and well-growing manufacturers.
Why SMART GLASS VIP?
While choosing between the companies you got to consider two things
Their customer service
Their product quality
The prices
We did give some of the valid and convincing reasons that proofs that SMART GLASS VIP IS BETTER IN BOTH THAN THE LTI SMART GLASS:
They are working world wide with the growth rate of 60% within two years.
Their endorsing quality makes a good impression on you. they are on the winning side in providing enough information about their product on their websites.
Displaying their certificates of being internationally test to be good to use on the website would definitely prove their authenticity unlike the LTI Smart Glass.
They provide you with a free sample incase you're still not sure. As to judge their quality standards
The company introduces imported equipment, strictly controls quality and environment protection standards, ensure the remarkability.
Their product manufacturing is environment friendly from product planning, designing to material inspection. By this you know you're adding to the environment.
They conduct all the planning and designing discussion in front of you, making you understand their idea of giving your place an exotic touch.
They also provide you practical suggestions and recommend you what is best for you.
The most unique quality about their smart glass is it has damping effect on sounds and improves sound insulation by 20%
Their smart glass is explosive proof, provides you utmost safety.
Smart glass of Smart Glass VIP provides you multi-touchable projection screen.
Their smart glass is indestructible enough to keep those unwanted entries out, so your security is in safe hands.
Last but not the least they provide their services of customizing your space, installing and delivering your smart glass at very affordable prices.
INTERPRETATION:
With this I would like to go in favor with Smart Glass VIP being the smart choice for the world around you!
SMART GLASS VIP IT DOES EXACTLY WHAT IT SAYS!