Switchable Glass Manufacturers recommend Intelligent Glass Tech for Home  Glass
Houses today are becoming more and more sophisticated and tech-based. When we are updating every aspect of the house, why not focus on the windows as well. Thanks to switchable glass manufacturers, we now have access to intelligent windows.
Incorporate these into your house and transform it from conventional to high-tech. The great thing about these windows they are not only extremely beneficial but also pleasing to the eye. You can enjoy a great variety of these films, each offering unique advantages.
For example, with a smash and grab glass film, you add an additional layer of protection to your glass windows. These films are highly effective when installed onto your car window.
Incorporating the technology in your house will offer a number of benefits. In this blog post, we are going to talk about the importance of using intelligent glass in your home. So, let us get on with it.

Switchable Glass Technology For your Home Glass
Intelligent glass also referred to as the Switchable glass is a high-end technology that has the ability to add a touch of luxury to your living space. It now is an integral part of contemporary offices, homes, health care, or leisure venues.
There is no denying that technology is becoming the most sort after one, especially when more and more people are becoming aware of the benefits it offers. As well as their need for extensions, renovations and improvement come into play.
A style to Impress
The modern and sophisticated switchable glass technology has a "WOW" element associated with it. It would provide you with all functionalities that blind and a curtain would do, but not at the expense of the comfortability.
On the contrary, they have excellent insulating properties against harmful UV Rays, heat loss, and sound transmission. Switchable glass manufacturers design these glasses to be extremely energy efficient. The double-glazed switchable glass offers low iron, low E, argon filing, and an edge spacer.
Switchable Glass is Easy to Operate
The technology is extremely hassled free. It is as easy to operate as to turn your light bulb on or off. So, now you can enjoy instant switchable privacy by pressing a button. The technology is highly integrate-able.
You can easily install it into the automation systems, as well as the room control systems. After all, the technology is designed to complete the high-tech environments and make the user's life extremely convenient.
The great thing is that technology also becomes popular among small households. The application of the technology has no limit, you can apply it to almost everywhere you want. After all, switchable glass manufacturers are able to make products to exact precisions.
They are able to meet the requirements of the interior designers, architects, builders, contractors, and property developers. The switchable technology now is incorporated across industries. You will find them in hospitals, hotels, residential places, leisure vials, and even small health care places.
Here are the typical ways in which you can use the switchable glass in your house.
Double-Glazing
The switchable double-glazing glass removes the needs for curtains and blinds. In addition to that, it offers a higher level of insulation, instant privacy, and better thermal performance. The durable solid-state offers enhanced comfort to the users and better control.
Something we all are looking for in our high-tech, sophisticated modern homes. We would not want the hassle to draw the curtains while the sun is out, and undraw it when you want the sunlight to enter. All this can be achieved with an app or a switch.
Working Principle
The inner surface of the glass panel has a coating of a PDLC switchable layer. Next, there comes another panel to completely seal the panel. To ensure the insulation and the performance of the glass, the manufacturers incorporate the warm edge spacer bar that has an air gap filled with argon between.
Manufacturers even offer a high level of customization. For instance, you can have a switchable glass with Low E or Low iron coating to make the glass highly efficient and effective. It is also extremely easy to install and it goes a long way.
You would be able to enjoy its endless benefits with regular maintenance. This particular feature makes it extremely pleasing to the users who want robust and long-lasting products in their home.
Switchable Glass in Bathrooms
It seems that all glass bathrooms are becoming modern trends, and why should they not when you incorporate switchable glass technology. The common application of technology is wet or shower rooms. You would also find them in hotel bathrooms.
The amazing technology provides stylish discretion to all the customers living there.  There are two ways to take care of bathroom privacy in style, you can either go with a switchable laminate glass or opt for the double-glazed unit.
Choose whatever would suit your house requirement. After all, both these types of switchable smart glass are great alternative traditional curtains and blinds. So, if you think that curtains and blinds are troublesome in your personal bathroom, reach out to switchable glass manufacturers for better results.
They would provide you with a better and more reliable alternative. For instance, switchable laminate glass to enhance the wet divider of your bathroom. You can even use it for the screen of the shower cabinet or to divide your bathroom space.
It is highly effective for en-suite bathrooms as well.  So, incorporate the switchable technology and make your bathrooms look great.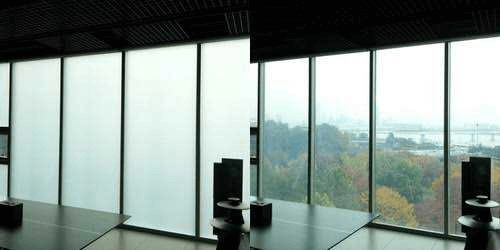 Doors and Partitions
The use of switchable glass is not limited to bathrooms only, on the contrary, you use them for doors, creating partitions, and even for your front elevations. Allow the cutting-edge technology to turn your house into something beautiful.
Use it for your glass doors would offer the wow factor when it comes to interior designing. It is something the curtains won't be able to match. Likewise, you can use the front elevation. So, you can enjoy the beautiful view whenever you want and prevent the heat from entering your house with a slip of a switch.