How Switchable Privacy Glass Film Benefits the Health Care Environment
The innovative modern technology – switchable privacy glass film — offers a number of benefits to the medical facility. It uses durable glazing and switchable liquid crystal film to offer these advantages.
Health care providers are constantly working on providing the best possible experience and environment for their patients. In doing so, they are upgrading that medical facility every now and then. After all, it is the aim of the hospital and similar medical facilities to ensure that their patient feels comfortable.
By upgrading medical facilities, we do not mean the medical equipment, medicine, or medical procedures but also the interior and the surrounding of the hospitals. They need to embrace the new technology along with all the perks that it has to offer.
For instance, the switchable glass. It now plays a pivotal role in improving the overall healthcare facility of the hospital. In addition, it is energy efficient. The technology uses an innovative idea to ensure better health care surroundings.
Benefits of Using a Switchable Privacy Glass Film
Smart Glass films offer a number of benefits to different industries. Here is, how these privacy films can benefit the hospital or other similar health care facilities.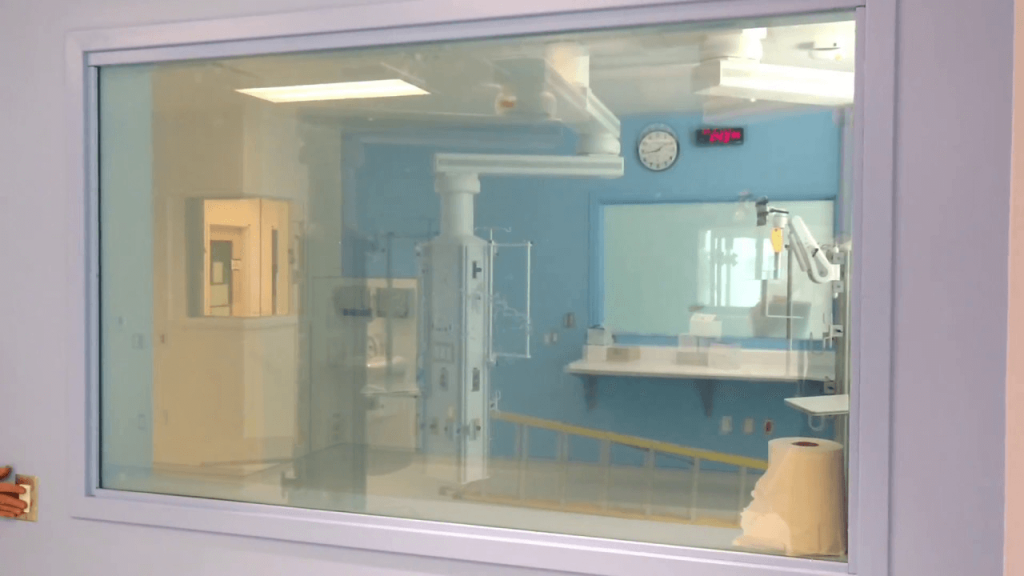 Observation Without Contamination
All hospitals tend to face this particular problem. Most of them are facing cross-contamination from some serious and highly contagious pathogens. For instance, the MRSA is causing a lot of disturbance in the hospital.
Incorporating switchable privacy films would reduce the risk of contamination. With just a flick of a switch, it is possible to observe the patient without combing in contact with him or her. You would not have to risk cross-contamination from any disease.
Remote Monitoring
Since providing a clean environment to all the patient is among the top priority of every hospital. Therefore, it is unavoidable not to visit the isolated wards. This results in increased chances of contamination.
However, with switchable privacy glass, it is possible to remotely monitor not only the patient but also it's surrounding in an effective manner. The staff would not have to enter each isolation unit to ensure hygiene on a regular basis. Therefore, reducing the risk of contamination
Increased Patient Privacy
This goes without saying! The name "Switchable Privacy Glass Film" suggests that the film would offer privacy in every possible way. The film ensures improved patient privacy even in small health care places and hospitals.
After all, it is vital for the hospital to establish the requisite level of patient's privacy. They need to maximize the comfort and satisfaction of the patient. Therefore, they need to act accordingly.
Since it is possible to change the switch glass films from transparent to complete opaqueness, thus ensuring complete privacy to patients in the operating theaters, patient rooms, and the examination rooms.
These films tend to offer unrivaled level privacy especially when you compare them with the conventional blinds or curtains. The old methods are not highly effective, as it is possible to disturb them easily.
Hygienic Alternative to Curtains
Traditionally, hospitals and health care facilities use curtains for privacy. However, there is a high chance of contamination as well as hygienic issues with it. Maintains of curtains is difficult. To wash or to disinfect it, you would have to bring the curtain down and wash it.
However, that is not the case with a switchable privacy glass film. In addition to ensuring a better privacy level, it is extremely easy to clean and maintain. All you would have to do is use a glass cleaning liquid and or any other disinfectant, and wipe clean the glass.
It would clean as well as disinfect it at the same time. When you incorporate the privacy glass films in your hospitals, you are creating a more cleaned environment for not only your patients but also for the staff.
It is easy to wipe the glass and eliminate any presence of dangerous pathogens that can cause a threat to the health of any patient or the hospital staff.
Shared Bathrooms
Hospital rooms are full of bacteria. Thus, increasing the spread speed. What makes it worse is the wet bathrooms. The bacteria spread more quickly in the bathroom that it would in a dry area. Therefore, it to keep proper hygiene in the bathrooms completely hygienic.
To do so, a good idea is to keep the dry and wet surfaces separated. The switchable privacy glass films are excellent ways to keep them dry and wet places separate while ensuring the privacy of the bath.  Instead of curtains, this is more hygienic.
Also, it tends to consume less space in comparison to cement walls. What more is that these are offer noise insulation. You can relax in the bathroom without worrying that people standing just outside would hear everything.
Cleaning will also become effective. You will not have to go the extra mile to ensure proper cleaning of the separation.
Nursing Stations
With these switchable privacy glasses, it is possible to create a comfortable working space for the nurses. After all, they are on the front, fighting the war against numerous diseases. They come in contact with numerous patients and their family members.
The privacy glass would not only ensure privacy but at the same time, it can control noise. Also, some smart glasses come with the antimicrobial feature. It means that this glass creates a natural infection control barrier.
Thus, ensuring the safety of every nurse working in the hospital.
Switchable Privacy Glass Film offers Safety
In addition to offering complete privacy to the health care providers as well as the patient, the privacy glass also ensures security. When you install a switchable privacy glass film on your windows, it makes it robust.
In case of an accident i.e., something hits the window and it breaks, the debris will not cause harm to the people present on the other side of the glass. The film would contain the debris. It would prevent it from hurting other people.
For more robustness, you can use the switchable privacy glass instead of the film. These smart glasses have the ability to withstand heat to a great extent. They are designed to stand put even in the blazing fire for almost 36 hours.
 Adds an Aesthetic Sense
One of the reasons people today are incorporating glass windows and glass panels is that it gives a modern feel. It gives the impression that the place is spacious. In addition, it makes a good first impression.
However, the glass also causes serious privacy issues. So, the best solution is to install the privacy glass film onto your glass windows and panels. Doing so would eliminate the privacy issue while retaining the overall modern look.
Additional Design Benefits
Another great thing about these smart films is that they come in different designs. So, you can add a bit of color of your hospital facility. Make it lively and attractive. Yes, it is a hospital, but it does not mean that it needs to be boring.
Real-Time Studies of Switchable Privacy Glass Film 
Two hospitals, St. Mary's Paddington Hospital and Went Whales General Hospital implemented the switchable privacy glass and film in different parts of the hospital. For instance, the St. Mary's Paddington Hospital installed smart glasses panels to prevent the spread of contagious superbugs.
The increased sterilization speed and reduced contamination resulted in resounding success for the hospital. It ensures easy cleaning and effective sanitization of the glass walls.
Went Whales General Hospital, on the other hand, constructed its new endoscopy and three-story theatre. Instead of using the regular curtain, they decided to implement the switchable privacy glass for more effective results.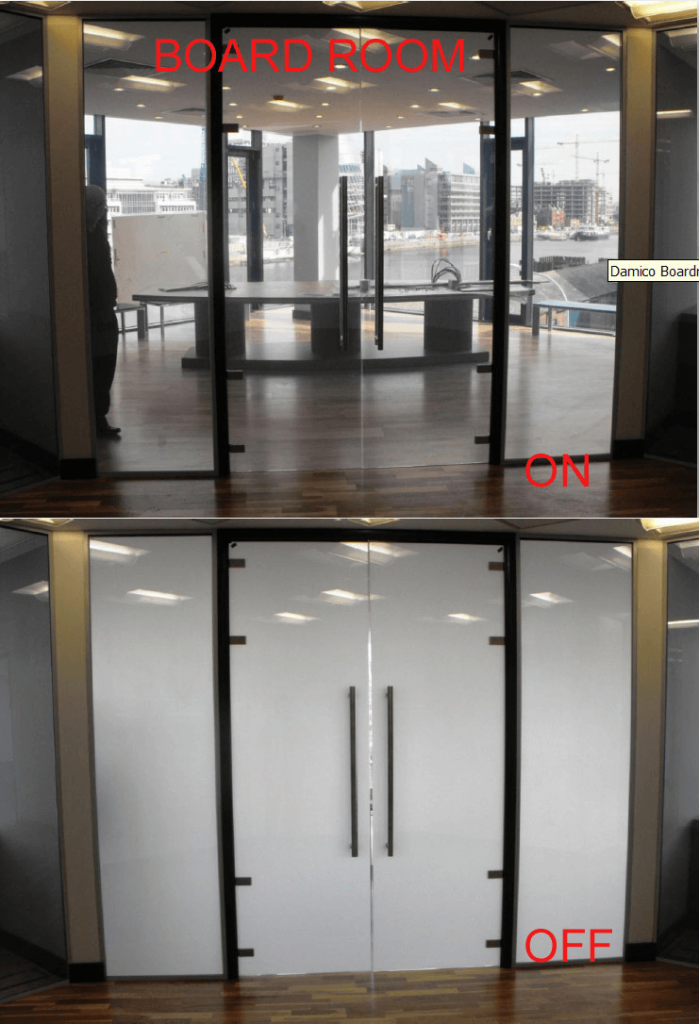 Doing so guaranteed not only additional privacy, but also extremely easy cleaning. Maintaining separation and windows was also easy. They didn't have to put in a lot of effort for the cleaning purpose.
To Sum It up
Switchable smart glass is the perfect solution or medical facility and hospital where cleanliness is imperative. These switchable films have unique properties that make it possible to install on any glass surface.
To know more about our switchable glass films, you can reach out to us.